Downton Abbey Season 4 Premiere
Recent pins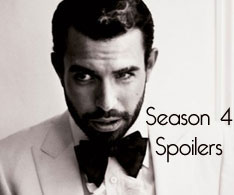 Follow Us on Twitter:
Facebook
Downton Abbey Trivia
Downton Abbey costs an average of one million pounds per episode to produce.
In 2012, it became the most nominated British TV series in the history of the Emmys, with 16 Emmy nominations at The 64th Primetime Emmy Awards.
Gillian Anderson reportedly turned down the part of Lady Cora Grantham.
The series is filmed at Highclere Castle, set on 1,000 acres in West Berkshires, Hampshire-a landmark estate owned by the Carnarvon family since the late 17th century. It's open to the public during the summer for $27 admission fee and can also be rented for weddings and other events. The kitchen and servants' quarters, however, are shot in a London studio because those parts of Highclere have been modernized.
According to Julian Fellowes, the parts played by Hugh Bonneville, Brendan Coyle and Maggie Smith were written for the actors.
It was reported that Steven Waddington auditioned for the part of Bates.
When Downton Abbey first aired, Julian Fellowes (creator and producer) was annoyed at the media for pointing out anachronisms like TV aerials and the use of the word 'boyfriend'. (The word 'boyfriend appeared in print in 1889, long before the period setting of Downton). Fellowes said "they think to show how smart they are by picking holes in the program to promote their own poshness and to show that their knowledge is greater than your knowledge". In a later article coinciding with the start of the second season, Fellowes apologised and commented "I behaved rather badly by getting the hump."
Extras