Downton Abbey Fashion
Each new season of Downton Abbey offers the same breathtaking countryside, intrigue upstairs and downstairs and all the witty one liners we've come to expect. But some of us most looking forward to Downton Abbey's costumes. Every season of Downton continues the show's tradition of lavish period fashion. Since 2010, Downton has made its footprint in the fashion world.
Out on the streets, sales of long silk gloves, pearls and empire waisted dresses have soared since Downton Abbey aired. The popularity of Downton Abbey and its beautiful costumes has inspired a whole new demand for 1900s fashion accessories like hats, shrugs and Ralph Lauren clothes. Nicole Richie's beaded headpieces for House of Harlow have also been popular, selling out on several online stores.
Susannah Buxton, the former fashion designer for Downton, was nominated for an Emmy for costume design. The department is now run by her former assistant, Caroline McCall. According to Buxton, Downton Abbey clothes don't strictly adhere to the period, but use the same aesthetic while trying to make Downton style attractive to modern audiences. She says it's more a translation than historically accurate.
Ralph Lauren and Downton Abbey is a fashion partnership made in heaven. British hunting parties and opulent candlelit dinners of bygone eras have long inspired Lauren's design career. As Vogue's Mark Holgate says, Lauren's clothes successfully 'manage to speak to the past yet also live and breathe in the here and now'. Last year, Ralph Lauren sponsored PBS' Masterpiece series in light of Downton Abbey's popularity as a costume drama.
The stars of Downton Abbey have become fashion icons onto themselves. Michelle Dockery appears in fashion mags all the time. And the queen of fashion, Anna Wintour, has given the show her seal of approval. Pippa Middleton, another fashionista, visited the set for a guided tour.
Season 3 of Downton opens at the beginning of the 1920s. Downton Abbey dresses are shorter and less ornate than those of the Edwardian period. We're seeing flapper and art deco influences in the clothes worn by the three daughters – the real fashionistas of Downton Abbey. We also see headbands and beading, art deco makes a solid apparent. This is probably a nod to Coco Chanel's metallic and beaded evening gowns of the 1920s.
Lady Mary has a sophisticated and elegant style. Edith's hair and clothes have greatly improved as she tries to snare a husband and hit the workforce. Late Lady Sybil's style was more bohemian and whimsical. The grand dame of Downton, Violet, retains her exaggerated Edwardian style of corsets, gloves and hats. Violet looks positively old fashioned next to Shirley MacLaine's Martha Levinson. The jazz upped grandmother shows her ankles, sports a modern hairstyle and is covered in jewels.
Season 3 of Downton Abbey features a wedding or two. Mary's wedding dress is sophisticated and stylish, but not as ornate as we might have expected. Downton Abbey's current fashion designer McCall says she studied the catalogue of Lanvin from the time in its creation.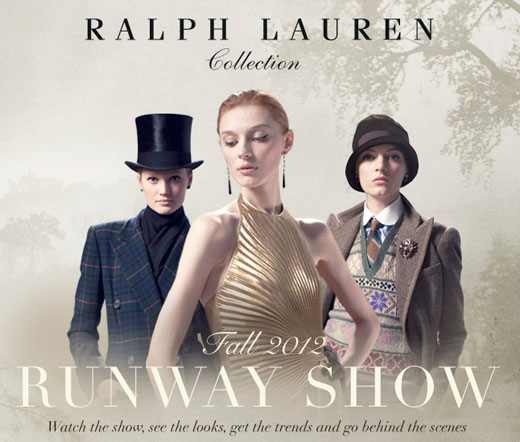 Ralph Lauren's Fall 2012 show opened with the theme song of Downton Abbey. Models wore skinny plaid trousers and narrow cut blazers. Lauren's spring show was more of a flouncy pastel affair suited to garden parties and formal dinners. The Fall collection is more of a love affair with the English countryside and shooting parties.