Contact
You can send us a tiny white envelope, a telegram, or just email us below…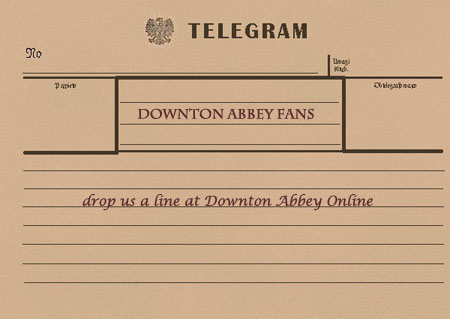 Sponsored
Pinterest!
Follow Us on Twitter:
Downton Abbey Trivia
Downton Abbey costs an average of one million pounds per episode to produce.
As of 2013, Downton Abbey is the highest rated PBS "Masterpiece" drama series of all time, seen by an estimated 120 million viewers in 200 countries and regions.
Gillian Anderson reportedly turned down the part of Lady Cora Grantham.
The real estate that "plays" Downton Abbey, Highclere Castle, has been the home of the Carnarvon family since 1679. In 1922, George Herbert, the 5th Earl of Carnarvon, co-discovered the Tomb of the Egyptian pharaoh Tutankhamun. On the show, the names of the Earl of Grantham's beloved dogs, Isis and Pharaoh, are nods to the real castle's connection to Egyptian history.
According to Julian Fellowes, the parts played by Hugh Bonneville, Brendan Coyle and Maggie Smith were written for the actors.
It was reported that Steven Waddington auditioned for the part of Bates.
When Downton Abbey first aired, Julian Fellowes (creator and producer) was annoyed at the media for pointing out anachronisms like TV aerials and the use of the word 'boyfriend'. (The word 'boyfriend appeared in print in 1889, long before the period setting of Downton). Fellowes said "they think to show how smart they are by picking holes in the program to promote their own poshness and to show that their knowledge is greater than your knowledge". In a later article coinciding with the start of the second season, Fellowes apologised and commented "I behaved rather badly by getting the hump."
Hunks of Downton Abbey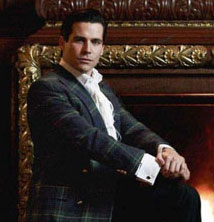 The UK's GQ magazine featured a photo shoot of Downton Abbey's men in modern fashion, even though they all still have that 'to the manor born' look about them. The results are inspiring…
Shirley Maclaine Interview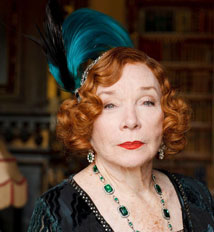 Downton Abbey gets a shock to its system with the arrival of straight shooting Martha Levinson, played by Shirley Maclaine. The 78 year old Oscar winning actress did an interview with the New York Times. Read on…
Extras