Downton Abbey Season 5: What we know so far
For starters, the trailer for Season 5 of Downton Abbey is pretty vague…
What we know about Season 5 of Downton Abbey…
FIRE!:
Allan Leech said we might cry during the season premiere of Downton Abbey. But Lesley Nichols said "There aren't any plans for any big characters to die this year." We know the fifth season opener of Downton Abbey starts with a fire… And that the fire affects one of the main character's bedrooms. But who?
Because of the real risk of smoke damage at Highclere Castle, the smokey scenes were actually shot next to the house and at the studio. Lady Carnavon, the owner of Highclere Castle (Downton Abbey) has spoken about the actual history of fire at Highclere Castle. She said fans will notice that the gilded ceiling is far less ornate in the north library than the main library because of fire damage 150 years ago.
After all we've been through, let's hope none of our fictional characters are damaged by the fire in the first episode of Downton Abbey.
LADY MARY REMAINS SINGLE for now: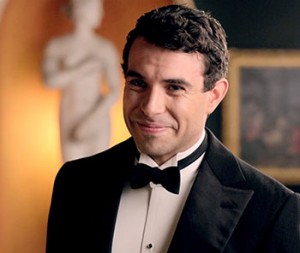 The love triangle with Lady Mary, Charles Blake and Anthony Gillingham is still triangulating in Season 5. We know that both actors are still very much on the scene. Michelle Dockery said she knew Lady Mary was never going to settle with a new man right away, partly for the sake of the audience since Matthew was such a well loved character. But we do know for sure that Evelyn Napier is no longer a potential suitor for Lady Mary. We understand that any choice between two hunks like actors Julian Ovenden (Lord Blake) and Tom Cullen (Lord Gillingham) can't be easy.
MORE DRAMA FOR BATES AND ANNA (and maybe MARY):
We don't know if Bates is a murderer or not. And Mary burned the ticket that puts Bates at the crime scene, creating a possible legal consequence for Lady Mary.
Anna and Bates are still dealing the traumatic aftermath of Anna's rape by Green. We hear there is a tender moment in Season 5 where the couple talks about having children, so there is hope they will be able to move forward. But the suspicious cloud still hangs over Downton about Mr Green's death. Suspecting that your husband may be a murderer is confusing for any wife.
MARY AND TOM GROW CLOSER:
Romance is out of the question, but the unlikely duo have a lot in common with their single parent widower status.
RUSSIANS!:
Lady Rose helps Russian refugees. And Lady Violet is also very involved in this new subplot. Prince Kuragin, the major Russian character, is played by Rade Serbedzija. Lady Mary is overheard saying: "Granny has a past!" He seems a bit young to have had any type of romantic affiliation with Lady Violet, but who knows. Bolsheviks, communists and Russians, oh my.
MORE DRAMA FOR EDITH:
With Edith's illegitimate daughter hidden on the estate, how could there not be more drama? Add another secret waiting to be revealed when Lady Edith starts spending too much time with the Drewe family, the adoptive parents of Edith's baby. "It's a drama waiting to happen," said actor Laura Carmichael (Lady Edith). It shouldn't take Rosamund and Violet long to figure out where Edith's baby is since they already know about this child's existence. And Lady Edith doesn't buy the whole Michael Gregson being attacked by a gang of street toughs story. She won't let the disappearance of her daughter's father go unsolved.
SARAH BUNTING IS STILL A LOVE INTEREST FOR TOM BRANSON:
All we know is that the actress is back on set and there's romance, albeit conflicted, in the air.
CARSON AND MRS HUGHES HAVE SOMETHING GOING ON:
At the end of Season 4, the sensible guardians of downstairs held hands, a bold move on Downton. They are both very private people, but nobody can deny something is cooking beneath their civilized exteriors.
CASTING NEWS:

Richard E. Grant joins the cast as Simon Bricker, who visits Downton Abbey as a guest of the Granthams. You may have seen him previously on Girls, Gosford Park, and Doctor Who.
Anna Chancellor from The Hour and Four Weddings and a Funeral plays Lady Anstruther
Rade Sherbedgia from Eyes Wide Shut, and 24 plays a Russian refugee/prince.
Dame Harriet Walter returns as Lady Shackleton
Peter Egan returns as Lord Flintshire.