Downton Abbey Season 1 Episode 7
Set in July 1914
Lady Cora discovers she's pregnant and Matthew's position as heir is threatened. Lady Mary and Matthew rethink the marriage proposal now that Matthew looks to be as middle class as ever and the marriage is no longer strategic or lucrative. But leave it to evil O'Brien and her nasty bar of soap. O'Brien thinks Cora is going to replace her, so naturally the only logical thing to do is murder Cora's unborn child. Lady Cora steps out of the tub and slips on the bar of soap O'Brien conveniently left on the bathroom floor. Cora miscarries the baby and possible heir to Downton. Matthew leaves Downton Abbey, thinking the engagement was largely political in nature.
While in London, Mary learns from former suitor Eveylyn Napier that Edith was the one who spread gossip about Mary and Kemal's ill fated tryst. Edith sent a letter to the Turkish ambassador. Mary exacts revenge on Edith at a garden party. Sir Anthony Strallan is going to propose to Edith, but Lady Mary persuades him not to. Edith is foiled again.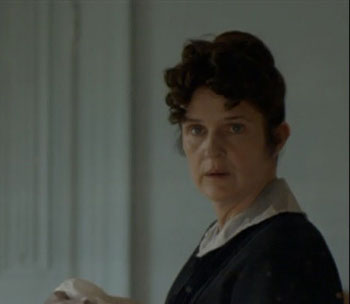 Downstairs, Mrs Patmore goes to London on Lord Grantham's dime for cataract surgery. No more blaming kitchen goofs on Daisy! Anna goes with Mrs Patmore and discovers that Mr Bates took the blame for his wife's act of theft. Robert is relieved to discover this as O'Brien and Thomas were scheming to get Bates fired claiming he stole from a previous employer. Gwen finally gets a secretarial position. Thomas leaves Downton to join the Army Medical Corps.
In the final scene, Lord Grantham announces that Britain is at war with Germany. And so begins World War I.
Quotes from Downton Abbey Season 1, Episode 7
Violet Grantham: I come in peace.
Violet Grantham: We can't have him assassinated. I suppose.
Violet Grantham: One way or another, everyone goes down the aisle with half the story hidden.
Lady Rosamund: There's nothing like an English summer, is there?
Lady Mary: Except an English winter.
Robert Crawley: Pregnant?
Cora: You needn't be quite so shocked.
Mrs. Bird: I'm surprised Lord Grantham knows that I exist, sir.
Violet Grantham: Sometimes I feel as if I were living in an H.G. Wells novel.
Violet Grantham:  Your quarrel is with my daughter, Rosamund, and not with me. So put that in your pipe and smoke it.
Lady Sybil: No one ever learned anything from a governess except for French, and how to curtsy.
Violet Grantham: What more do you need?
Violet Grantham: If she won't say yes when he might be poor, he won't want her when he will be rich.
Robert Crawley: My lords, ladies, and gentlemen. May I have your attention, please? Because I very much regret to announce that we are now at war with Germany.