Downton Abbey Season 5 Episode 7
Everyone at Downton is aflutter with Edith's sudden departure, except Mary. She couldn't care less. Rosamund visits her mother Countess Violet because they must finally tell Cora why Edith left Downton Abbey. Cora is upset that such a big secret was kept from her. The trio go up to London and find Edith at the magazine she inherited. A new plan is laid, borrowing from the previous orphan theme, this time with Marigold living in the house and everyone still in the dark about who she really is. A reluctant Robert agrees to home the orphan Marigold at Downton Abbey.
Mabel Lane Fox is still on the scene and doing her best to woo Tony back. Charles tries to talk sense into Tony, but Tony feels honour bound to marry Lady Mary after their dirty long weekend in Liverpool. Charles has a secret plan and asks Mary to London where he engineers a kiss at the movies just in time for Tony and Mabel to see them. Tony finally feels free to move on now. But Charles is off to Poland, unless it's just a clever ruse to interest Mary: he plays her like a fiddle and she loves every minute of it.
Mrs Hughes asks Lady Mary about the missing train ticket that proves Bates' innocence. Mary tells Mrs Hughes the ticket is burned.
Atticus and his parents visit Downton for dinner. They talk about the Jewish faith. Everyone feels the impending marriage between Lady Rose and Atticus Aldridge is too far of a stretch because of their different faiths, but Atticus proposes anyway. Rose is overjoyed, never one to turn town a difficult suitor.
Daisy is depressed about the failing Labour government; she thinks the working class will be held down forever. Mrs Patmore puts a word in Mr Mason's ear and he invites Daisy and Mr Molesley for lunch. Baxter tags along and they make a day out of it. Mr Mason convinces Daisy to stick with her learning.
Bates and Anna give Baxter the cold shoulder after she talks Scotland Yard about the couple. Thomas Barrow thinks Baxter should fess up to her past and then they'll understand why she had to talk.
Branson talks about going to Boston.
Spratt compares the Denker, the new maid, to a dachshund: 'quite untrainable'. Spratt can take no more and puts in his notice (but doesn't leave).
Isobel announces her marriage to Lord Merton at dinner. Mazel tov to the new Lady Merton! Dickie Merton and his sons come to Downton for dinner, to meet Isobel, their stepmom. Larry Merton caused a fuss the last time he visited Downton and offers an encore performance. His behaviour enrages everyone and he is asked to leave. Poor middle class Mrs Crawley now has doubts about whether to step into Lady Merton's shoes.
Violet confides to Mary over lunch: Violet is upset about losing Isobel as a companion.
Anna and Bates talk about having babies again. And buying a house. Everybody is talking about buying a house, including Carson and Mrs Hughes.
Isis remains listless. Our poor old girl has cancer. Isis should get an Academy Award for playing the dying, faithful companion. In a scene sadder than Marley and Me, a clearly upset Lord Grantham brings Isis to bed with him and Cora. He doesn't think our Isis will make it through the night. Why ISIS WHY?
Quotes from Downton Abbey Season 5 Episode 7
Countess Violet: He's a man. Men don't have rights.
Daisy: Now I wonder is it worth it, me trying to better myself.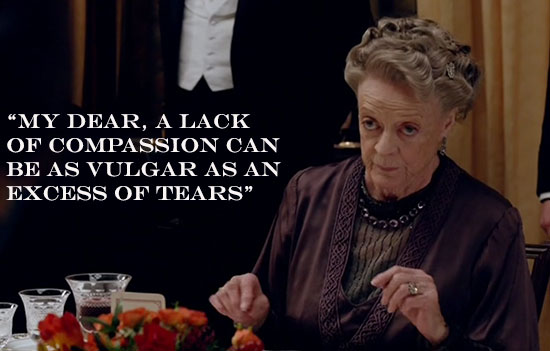 Countess Violet: My dear, a lack of compassion can be as vulgar as an excess of tears.
Violet: I've got used to having a companion. A friend… Someone to talk things over with. Isobel and I have a lot in common. I shall miss that.
Lord Grantham: I'm worried about Isis. She's not looking too clever.
Lady Mary: Why the song and dance? Edith has just gone away, that's all.
Rosamund: And how would we execute this insanity. A farmer's foster child turns up in the Downton nursery.
Countess Violet: Typical Spratt. He's as touchy as a beauty losing her looks.
Atticus Aldridge: I should have thought an orphan rather an uncomfortable piece of baggage for an unmarried woman.
Larry Merton: I know the choice of inlaws is eccentric in this family. We already boast a chauffeur and soon you can claim a Jew.