Downton Abbey Season 5 Episode 5
Everyone's gathered in the salon talking about the opening of a nudist colony in Essex. Countess Violet thinks it's too damp to take all your clothes off in Essex.
Rosamund is at Downton for the week, presumably to discuss Edith's secret baby. Rosamund can plainly see that Mrs. Drewe has had enough of Lady Edith and suggests they move the secret baby to France. Violet is now in on the secret. Edith doesn't seem on board with the French plan and makes a secret call to London…
Violet asks Isobel about Lord Merton's proposal but mum's still the word. Violet enlists Dr. Clarkson for yet another luncheon to see if they can save Isobel from marrying Lord Merton, but in the end, the co-conspirators agree Isobel and Lord Merton are a perfect match.
Mrs Patmore asks Carson for money advice because of her recent inheritance, but Mrs Hughes tries to steer Patmore clear of Carson. Lord Grantham tells Carson the money is in builders these days and Carson tells Mrs. Patmore the same. Mrs Patmore decides against this investment and the ladies arrange some tea to flatter and thank Carson for his advice, kindly letting him down.
The police inspector and a detective from Scotland Yard visit Downton again, this time to talk to Anna and Lady Mary about Mr Green's murder. Anna seems to be the main suspect these days.

After some sage words from Lord Grantham, Branson doesn't see things in black and white anymore. He ends it with Miss Bunting. She accepts a teaching position elsewhere. Daisy tries to change Branson's mind, but he sticks to his guns.
Lady Rose meets a helpful fellow called Atticus Aldridge. She invites him for tea and cake with the Russians. At tea, Lady Rose discovers Atticus Aldridge comes from Jewish stock instead of the Russian stock he'd claimed. It's also discovered that the Russians are anti Semitic. Alas, Atticus is offered a job in London and leaves town, but Lady Rose seems ever more determined to marry outside her class.
Mr Bricker comes to Downton, yet again, to photograph the famous painting for his book. He sneaks into Lady Cora's room at lights out but is caught by Lord Grantham when he returns early from some war dinner. Fisticuffs ensue between the two! At the cocktail party the next day, Lord Grantham is none too pleased at Cora even though it's clear that Mr. Bricker wasn't in the bedroom at Lady Cora's invitation.
Everyone is worried about Barrow's deathly appearance of late. He looks like Nesfaratu skulking around the manor.
Charles Blake invites Mary to lunch but tricks her by inviting Mabel Lane Fox too, Gillingham's old fling. Charles proposes that Mabel take up with Lord Gillingham again. She is insulted and leaves, but the seed is planted. Charles is clever and in charge. We think this bodes well for a match between Charles and Mary.
Mr Molesley asks Baxter for the truth about her life of crime and she gives it to him.
Downton Abbey Season 5 Episode 5 Quotes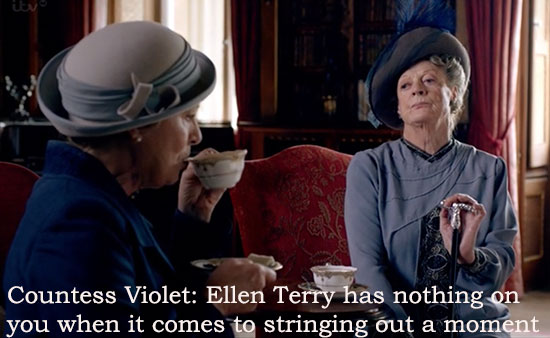 Countess Violet (to Isobel): Ellen Terry has nothing on you when it comes to stringing out a moment.
Dr. Clarkson: There are many who wouldn't be much puzzled by the desire to marry a Lord and live in a palace.
Miss Bunting: Have I finished us off before we ever really got started?
Mr. Bates:
We'll sit by the fire with all our children around us and I'll make certain you are safe.
Isobel (to Violet): You're as infirm as Windsor Castle.
Carson: I'm sure Miss Bunting is given the reception she deserves.
Rosamund (to Countess Violet): I'm afraid you've read somewhere that rudeness in old age is amusing. And it's quite wrong."
Mrs. Hughes: I wish men worried about our feelings a quarter as much as we worry about theirs.
Mabel Lane Fox: You seem to suggest I should take the discarded leavings of Lady Mary Crawley, dust off the fluff and put them on my own plate.
Mr Bricker (to Cora): "When did someone last cherish you?"