Downton Abbey Season 4 Episode 8
Downton's pigs are thriving. And Mr Drew, the new/old tenant farmer agrees to become the pig manager.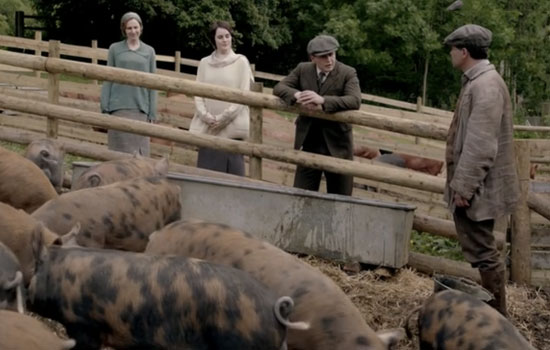 Lady Cora is a flitter organizing the annual church bazaar at Downton. Robert is still in America.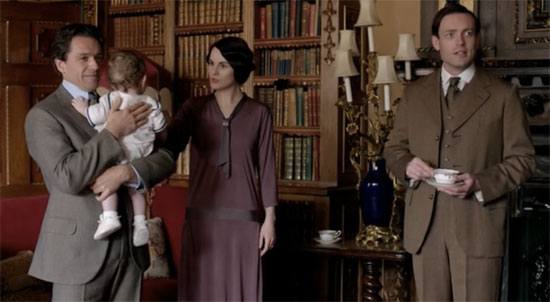 Mary is beset by suitors. There's old Evelyn Napier, the standby. Tony Gillingham makes a number of visits, prompting Violet to call him a most unconvincing fiancee. Mr. Blake's states his intentions in no uncertain terms – he's also a natural with the baby.
A letter arrives for Ivy. Alfred proposes marriage and asks Ivy to move to London. Ivy declines because she's not ready to settle. Daisy finds out about the proposal but her candle still burns for Alfred. Daisy goes for a picnic at Mr. Mason's farm to avoid seeing Alfred when he visits the Downton bazaar. But at Mr. Mason's encouragement, Daisy rushes back to Downton to make amends with Alfred and part as true friends. Alfred almost seems to do a turnaround, finally noticing Daisy's kindness after she packs him a food basket for his trip. But Daisy insists on finally parting as friends. Mrs Patmore is seriously chuffed that Daisy handles the situation so graciously.
Violet becomes suspicious of the liaison between Rosamind and Edith. First, Rosamind tells Violet that Edith needs some 'cherishing'. Then Rosamind arrives at Downton for a visit. Edith has an idea about raising the baby with the tenant farmer. Rosamind offers the more traditional solution of a long trip with an aunt. To Switzerland. Violet arranges a meeting between the three of them and she figures out that Edith is pregnant. Violet offers unconditional love and support to Edith. But she thinks the idea of placing the child on the estate with the tenant farmer is a bit daft.
Isobel attends a luncheon with Violet and Lord Merton, who takes a shine to Isobel. Lord Merton and Isobel have a heart to heart after lunch. Lord Merton sends Isobel flowers a few days later, much to Violet's fascination.
Branson runs into the local teacher, Sarah Bunting, from the Liberal meeting he attended. They engage in some lively banter. Branson runs into Sarah on the side of the road with a flat tire and saves the day. They have a 'serious conversation' about Branson's past. Sarah Bunting reminds of us the old socialist Branson, dismissing the aristocracy in one fell swoop. Romance is afoot…
Lady Rose enjoys a clandestine tea meeting with Jack Ross in Thirsk. Branson is also in Thirsk with his best friend Isobel. Branson spots Jack and Rose having tea. Branson spills the beans to Mary about what he saw. When Mary talks to Rose about it, Rose declares her intention to marry Jack. But Rose seems more interested in revenge on her mother's imperialistic ways than undying love. Rose and Jack become engaged. But Lady Mary visits Jack Ross in London – he was wondering when the family would arrive. He doesn't plan on marrying Rose because he loves her too much to have her endure the torment their union would cause.
Possible romance brews between Molesley and Baxter. Their conversations are frequent and they enjoy the bazaar together. Molesely impresses Baxter by ringing the strong man bell with a hammer. When Thomas returns from America, Molesley defends Baxter against his bullying.
Anna tells Mary about Mr. Green because Lord Gillingham is on his way for another visit with his man in tow. Bates questions Anna downstairs, reminding her how funny she thought Mr Green was when he first arrived. He's definitely onto Anna and knows Mr Green is the rapist. Mr Green arrives to Downton and charms the staff as usual, with his talk of London. In London, Mary meets with Lord Gillingham and tells him to fire Mr Green. Tony Gillingham agrees to fire Mr. Green even though Mary doesn't reveal why. But Tony still loves Mary and promises to court her until she walks down the aisle with another man. Tony tells Mary he's called off his engagement.
Lord Grantham makes a surprise entrance to the bazaar, returned from America where everything is sorted out. He tells Violet that Martha wants to visit to see another season in London (Will we see Shirley Maclaine on the Christmas Special?)
Anna is very nervous about the whole Bates and Mr Green situation. Bates takes the day off to 'visit York', or perhaps to murder Mr. Green. Lord Tony Gillingham makes yet another surprise visit to the bazaar to reveal that Mr Green is dead. Quelle surprise. Mr Green stumbled into traffic in Picadilly Circus. No one seems too bothered he got what was coming. If Bates is the murderer, he's getting better at it. Anna, however, would still like to know where Bates was…
Quotes from Downton Abbey Season 4 Episode 8
Isobel: It's only me.
Violet: I always feel that greeting betrays such a lack of self worth.
Baxter: I've had my stuffing kicked out more than once.
Mrs Patmore: Blimey. He puts a lot in a letter does Alfred.
Mrs. Patmore: You're a very optimistic generation, I'll say that.
Jack Ross: A black singer and a daughter of a Marquis in a North Yorkshire town. Why should we attract any attention?
Molesley (to Baxter): It's just coffee. You won't have to surrender any of your independence.
Countess Violet: No life appears rewarding if you think about it too much.
Lady Mary: I'm not on the market Tony.
Countess Violet to Rosamind: I see I have to take the slow path…
Countess Violet: Rosamind has no interest in French. If she wishes to be understood by a foreigner, she shouts.
Branson: I don't believe in types, I believe in people.
Violet: Switzerland has everything to offer, except perhaps conversation. And one can learn to live without that.
Lady Mary: Marriage is a challenge even when everyone wants it. Even if everyone prays you'll be happy.
Lady Mary (to Tony): I find that both irritating and beguiling in equal measure.
Violet: He's the most unconvincing fiance I've ever come across.
Mrs. Patmore (to Daisy): If you were my own daughter I couldn't be prouder than I am now.
Bates: You know me, when I do a thing, I like to have a very good reason for doing it.